INFORMATIE OVER HET VERZENDEN VAN CANNABISZADEN
Onze klanten voorzien van de meest efficiënte en persoonlijke verzendingsmethoden staat bovenaan op onze klantenservicelijst. Het afhandelen van bestellingen van onze gelukkige klanten betekent tijdige leveringen, aandacht voor privacyvoorkeuren en service met een glimlach.
We zijn verheugd om het feit dat we onze kwaliteitsproducten naar veel landen kunnen opsturen. Alvorens de bestelling raden we je aan om je productselectie(s) en je land te bevestigen, die hieronder in de verzendinformatie beschreven staan.
Levering
Bezorging neemt tussen de 3 en 15 werkdagen in beslag.
Wij leveren alleen aan particuliere adressen - geen PoBoxes, Packstations, Relay Points en het grote publiek plaatsen zullen worden aanvaard als een geldig afleveradres.
Met het oog op de snelheid van levering van uw bestelling, gelieve geldig (echte) levering naam en adres - verwacht niet dat de koerier te bellen u om uw adres te controleren.
Je track en trace informatie wordt naar je geregistreerde e-mailadres gestuurd als het pakket is verzonden - bekijk je spamfolder.
Voor de bezorging moet worden getekend. Je bezorger levert je pakket op je bezorgadres en laat een orderbriefje achter als je afwezig bent. Let er op dat in specifieke gevallen de bezorger de bestelling in je brievenbus kan doen ter bevordering van het bezorgingsproces.
Het is niet mogelijk om een specifieke tijd of datum te kiezen voor een eerste bezorgpoging.
De bezorger belt je niet om te checken wanneer je thuis bent.
Onze Spaanse leverancier transporteert de bestelling naar je land, waar de uiteindelijke bezorging door de lokale bezorger in jouw land wordt gedaan.
Bezorgers in jouw land - kan gewijzigd worden zonder voorafgaande kennisgeving:
Duitsland (DHL), Frankrijk (Colissimo), Italië (SDA Italia), Griekenland (ELTA), Spanje (Correos), Nederland (PostNL), Portugal (CTT), UK (Hermes).
Een link naar de track en trace pagina wordt naar je geregistreerde e-mailadres gestuurd zodra het pakket is verzonden - bekijk je spamfolder. Let er op dat het soms een paar dagen kan duren voordat de tracking code van de laatste bezorger te zien is op de tracking pagina.
Verpakking
Je nach Grad der gewünschten Diskretion, bieten wir 2 verschiedene Verpackungsmöglichkeiten an:
Standaard Verpakking: GRATIS
Verborgen Verpakking DVD Hoesje: 5 €
N.B.:Beide verzendmethoden nemen dezelfde hoeveelheid tijd in beslag voordat het pakket uiteindelijk op je deurmat te belandt. Het enige verschil is in hoeverre je pakket er gecamoufleerd uit ziet. Houd er rekening mee dat de gratis cadeaus zoals stickers, grinders en vloeipapier niet aan de order worden toegevoegd wanneer Verborgen Verpakking is gekozen - omdat deze producten niet in de doos passen. Alleen de gratis zaden worden toegevoegd wanneer deze optie wordt gekozen.
Standardverpackung
Stealth-Verpackung
Landen voor verzending
Als je land niet op onderstaande lijst voorkomt, betekent het dat we (nog) niet naar jouw land transporteren!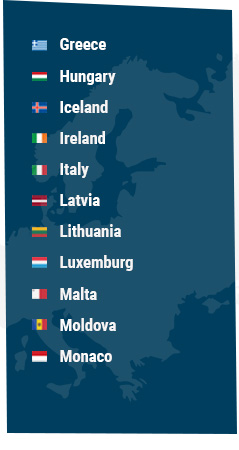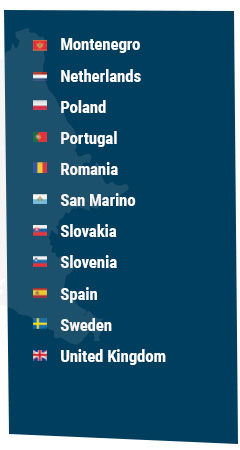 Disclaimer
We waarderen uw zaken en werken er ijverig aan om onze klanten de best mogelijke service te bieden. Door de juiste betalings- en bezorgingsinformatie te verschaffen bij het doen van de aankoop, besparen we tijd en geld. Let op dat Royal Queen Seeds niet verantwoordelijk is voor door de klant verstrekte incorrecte informatie. Onjuiste klantinformatie die zorgt voor onjuiste bezorging, geen bezorging, aanhouding of kosten zijn voor verantwoordelijkheid van de klant.
De Algemene Voorwaarden houden ook in dat: De klant volledig aansprakelijk is voor alle bestellingen die verzonden zijn en ons magazijn hebben verlaten. Royal Queen Seeds kan niet verantwoordelijk of aansprakelijk worden gehouden voor productinhoud of bijkomende kosten als het pakket bij de douane wordt tegengehouden. Royal Queen Seeds draagt alle verantwoordelijkheid en verplichtingen voor pakketten die ons magazijn hebben verlaten over aan de klant.
All orders are posted free of charg'e