RQS Genetica – Cookies

Het is een zoet decennium geweest voor cannabis. Dessert-gearomatiseerde marihuana heeft zich ontwikkeld tot een cannabis klasse op zichzelf. We willen je graag voorstellen aan het hoofd van de Cookie familie. Het is tijd om kennis te maken met Royal Cookies.
HET COOKIE RECEPT
De genen van de originele Cookie prototypes vinden we aan de westkust van de VS, rond 2009. Ze waren het nageslacht van twee legendarische soorten, OG Kush en Durban Poison. Hiermee duurde het niet lang voordat de Cookie kruisingen een reputatie opbouwden als unieke smakelijke, vurige marihuana, van kust tot kust.
Bijna zo plotseling als de eerste Cookies ontstonden en de Amerikaanse markt domineerden, verspreidden de genetica zich wereldwijd naarmate hun reputatie groeide! De meester kwekers van Royal Queen Seeds konden het niet weerstaan om de Cookie genetica verder te verfijnen en de definitieve dessert soort te ontwikkelen. Door het succesvol kruisen van hoogwaardige Amerikaanse Cookie fenotypen, heeft RQS Royal Cookies gecreëerd.
HET KWEKEN VAN COOKIES
Royal Cookies, zoals je zou verwachten, is voorzien van veel kruisingskracht. Het beste van alles is dat je geen doorgewinterde kweker hoeft te zijn om het beste uit haar te halen. Tenzij je je in een warm, zuidelijk Europees klimaat of aan de westkust van de VS bevindt, kun je Cookies het beste binnen kweken.
Succesvolle buitenkweek van Cookies vraagt om warm, droog weer, van zaad tot oogst. Compacte cola's die met kleverige hars bedekt raken, worden verpest als het regent. Investeer in een kas als extra zekerheid. Royal Cookies kan maar liefst 500g per plant produceren. Ze klimmen zelden boven de 2m in optimale zonnige omstandigheden.
Binnenshuis is waar Royal Cookies zich wereldwijd heeft bewezen een soort van topklasse te zijn. Ze vertoont indica kenmerken, van wortel tot bloeiende top. Ze is kort, stevig en absoluut perfect voor de SOG methode. Een typische binnenkweek met 600W HID of 400W LED kan tot 525g/m² opleveren. De gemiddelde hoogte van de plant is 1m, waardoor deze soort een ideale, hoogwaardige optie voor micro-kwekers is.
De bloei duurt slechts acht tot negen weken; nogmaals, de indica eigenschappen komen duidelijk tot uiting. Wacht tot de rijpe toppen glinsteren van de hars, waarbij de trichomen melkwit worden. Het beste is om ze langzaam te drogen en uit te harden om van het volledige terpenen profiel van het eindproduct te genieten. Royal Cookies is veelzijdig en presteert goed in een verscheidenheid aan substraten. Dat gezegd hebbende, raden we biologische bodem teelt sterk aan om het volledige potentieel van Royal Cookies te ontgrendelen.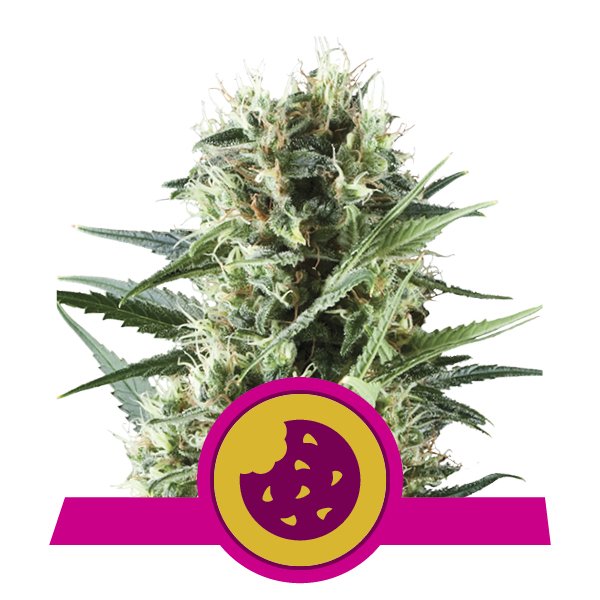 Royal Cookies kan 23% THC toppen produceren met een koekjes aroma en een aardszoete smaak. Ervaren rokers - met een hoge tolerantie voor het sterkste groen - waarderen de bijna gelijktijdige mentale blikseminslag en verdovende fysieke donder. Nieuwelingen kunnen weggeblazen worden door de cerebrale high en vervolgens verlamd worden door de fysieke naschok. Met kleverig groen dat zo zoet is, kan het heel makkelijk zijn om te veel te nemen. We raden aan om een passende dosis in te nemen en van elke heerlijke, zoete hijs te genieten. Royal Cookies is dé avond rookwaar voor cannabis connaisseurs.
Strain Families